SET SAIL WITH THE ACTION CRUISE
SET YOUR NEW SEASON ALIGHT ON A KITE ADVENTURE LIKE NO OTHER; TAKING YOU TO PRIVATE AND SECLUDED SPOTS WITH A VAST ARRAY OF RIDING OPPORTUNITIES!
The Action Cruise run Kite & Sail Camps in some of the most picturesque kiting locations on the planet from Sardinia to the Greek Cyclades and the Caribbean. They've got some awesome adventures coming up throughout the whole year. Here's a few highlights from their upcoming kite and sail schedule should watch out for.
SARDINIA AND SOUTH CORSICA 
DATES FOR 2022 (Places remaining as at 17th May 2022): 
SARDINIA 1) 15 MAY – 21 MAY – CAMP FULL
SARDINIA 2) 22 MAY – 28 MAY – CAMP FULL
SARDINIA 3) 29 MAY – 04 JUN – 2 SPOTS AVAILABLE
SARDINIA 4) 25 SEP – 01 OCT – 7 SPOTS AVAILABLE
SARDINIA 5) 02 OCT – 08 OCT – CAMP FULL
Setting sail from Cannigione Costa Smeralda in the northeast of Sardinia and sailing to the Bonifacio region in the south of Corsica, you'll kite and sail through the breathtaking archipelago of La Maddalena which consists of the islands Caprera, Budelli, Razzoli and Santa Maria which are peppered with awesome, tucked away kite spots. From there, it's on to the Strait of Bonifacio with the Lavezzi and Cavallò Islands and even more exclusive kiting locations in Corse with the kind of azure blue Mediterranean waters that dreams are made of.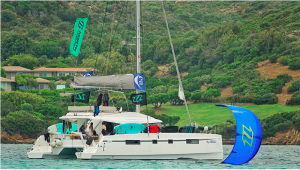 Conditions
The mistral wind blows from the north west between 15 and 35 knots and when they aren't on you'll get regular big kite / foiling weather in the thermal easterlies which average between 12 and 20 knots. Water temperatures are pleasant, and you won't need thicker than a 3/4mm suit.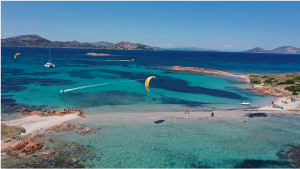 The boat
The cruise takes place on Nautitech 46 Flybridge with 3 crew members managing sailing, kiting and full board service. This includes a skipper, kite instructor and hostess who will organise all of your meals. The crew will take drone shots of your sessions, you can go SUPing and they can rent you kites, foils or a strapless board if you need one.
The catamaran is a modern, comfortable boat with the added luxuries of a water maker and heating system to ensure you'll always have a warm shower available. You can also enjoy the incredible ocean views from the flybridge.
www.theactioncruise.com/sardinia
GREECE
DATES FOR 2022:
GREECE 1) 05 JUL – 12 JUL – CAMP FULL
GREECE 2) 13 JUL – 20 JUL – 7 SPOTS AVAILABLE
GREECE 3) 21 JUL – 28 JUL – 3 SPOTS AVAILABLE
GREECE 4) 29 JUL – 05 AUG – 4 SPOTS AVAILABLE
GREECE 5) 06 AUG – 13 AUG – 1 SPOTS AVAILABLE
GREECE 6) 15 AUG – 22 AUG – 2 SPOTS AVAILABLE
GREECE 7) 23 AUG – 30 AUG – 3 SPOTS AVAILABLE
GREECE 8) 31 AUG – 07 SEP – 9 SPOTS AVAILABLE
On the Cyclades adventure you'll meet the Action Cruise team in Paros in Greece before setting sail for seven days through yet more dreamy blue Mediterranean waters, navigating around just some of the 220 islands that make up the island chain. There are countless flat water spots, many of them on secluded islands that can only be reached by boat and you're more or less guaranteed to have the majority of them entirely to yourself!
Paros, Antiparos, Small Cyclades, Mykonos, Rinia, Milos and other secret spots are all on offer. If the Meltemi is off, it is possible to sail to Peloponnese to catch the West Wind.
After a full day of kiting, in the evenings you can explore and experience the classic blue and white villages that dot each island and enjoy the amazing sunsets and excellent food that's served in the local tavernas.